Sri Madhvacarya
February 14, 2008
Friday 15 February 2008
is the disappearance day of Sri Madhvacarya, our sampradaya-acarya. The following is an excerpt from a class given by Srila Narayana Gosvami Maharaja on his appearance on October 13, 2005 in Mathura.
"Today is the appearance day of Sri Madhvacarya, who is the sampradaya-acarya of our Brahma-Madhva-Gaudiya Vaisnava Sampradaya. He appeared in a place called Pajaka-ksetra. His father's name was Madhvagaya, his mother's name was Vedavidya, and his childhood name was Vasudeva. He took sannyasa at a very young age, and his sannyasa-name was Purna-prajna. His sannyasa-guru, who followed the mayavada philosophy of impersonalism, was named Sri Acyuta-preksa.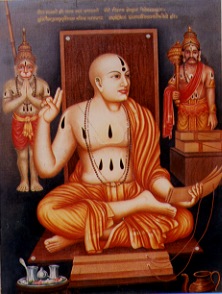 Madhvacarya took birth in Udupi, and his life was quite astonishing. He was an incarnation of Hanuman, Bhima, and Vayu – so he was very strong.
(From left to right: Hanuman, Bhima & Vayu)
There was once a businessman who was trading in gopi-candana (tilaka). His boat became stuck in the mud and could not go forward. At that time Srila Madhvacarya had been bathing in the ocean, and he saw the big ship full of large pieces of gopi-candana there. He was approached by that businessman, and in order to assist him, he pushed the boat – by himself. He was so strong that the boat started moving, and he was offered a very big piece of candana as a gift, in appreciation.
In the meantime, while the boatmen were unloading the candana, that piece was broken, and a very beautiful deity of Krsna manifested from inside. That Deity's name was of Bala-gopala – Dadhi-manthana Gopala. This Gopala Deity carries Mother Yasoda's stick for churning yogurt.
He became very happy. Although the Deity was very heavy, he took the Deity on his shoulder, and, carrying Him to Udupi, he sang a song to Him that came spontaneously from his heart. In other words, as he walked the seven miles to Udupi, he composed the song called Dvadasa-stotra (Twelve Prayers). He carried the Deity there himself, composing many stavas and stutis (hymns and prayers) to Gopala, and after reaching Udupi, he established Gopal there.
(Sri Krsna Math, the foremost of the Maths established by Sripad Madhvacarya.)
Srila Madhvacarya established four main Mathas (temples). In each of these Mathas there were two sannyasis, so in total there were eight sannyasis. These eight sannyasi acaryas practiced worshiping Lord Krsna in the mood of the gopis, but this worship was not given to the general population.
Sriman Mahaprabhu saw some lacking in the conception of Srila Madhvacarya, and He adjusted that. Sri Kavi Karnapura and Sri Baladeva Vidyabhusana have both declared that our Sampradaya-acarya is Srila Madhvacarya. In our disciplic succession we see that Srila Madhavendra Puri took initiation from Srila Laksmipati Tirtha in the Madhva-sampradaya. Therefore we have a connection with Sri Madhvacarya, although we are especially related with Srila Madhavendra Puri. Sri Advaita Acarya and Sri Nityananda Prabhu are related with Srila Madhavendra Puri, and Madhavendra Puri is related with Sri Madhvacarya.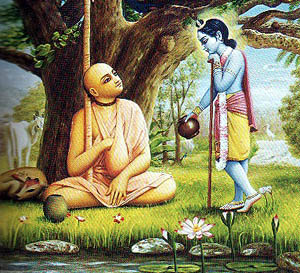 (Madhavendra Puri)
Some people do not accept the position of Sri Madhvacarya – that he is our Sampradaya-acarya. Some sahajiyas and caste gosvamis cannot reconcile this. They say that Srila Baladeva Vidyabhusana was not in our sampradaya, because he was in the Madhva-sampradaya. But actually, our sampradaya is related to Srila Madhvacarya. Srila Bhaktivinoda Thakura has therefore said very strongly that those who do not accept Srila Baladeva Vidyabhusana or Srila Madhvacarya have no relation to pure bhakti. They are kali-chela, disciples of the personality of Kali-yuga .
We must understand all these established philosophical truths. Then we can understand who Srila Madhvacarya is, and what our relation with him is."
fonte ->
http://www.cintamani.org/hari-katha/sri-madhvacarya/
Related posts