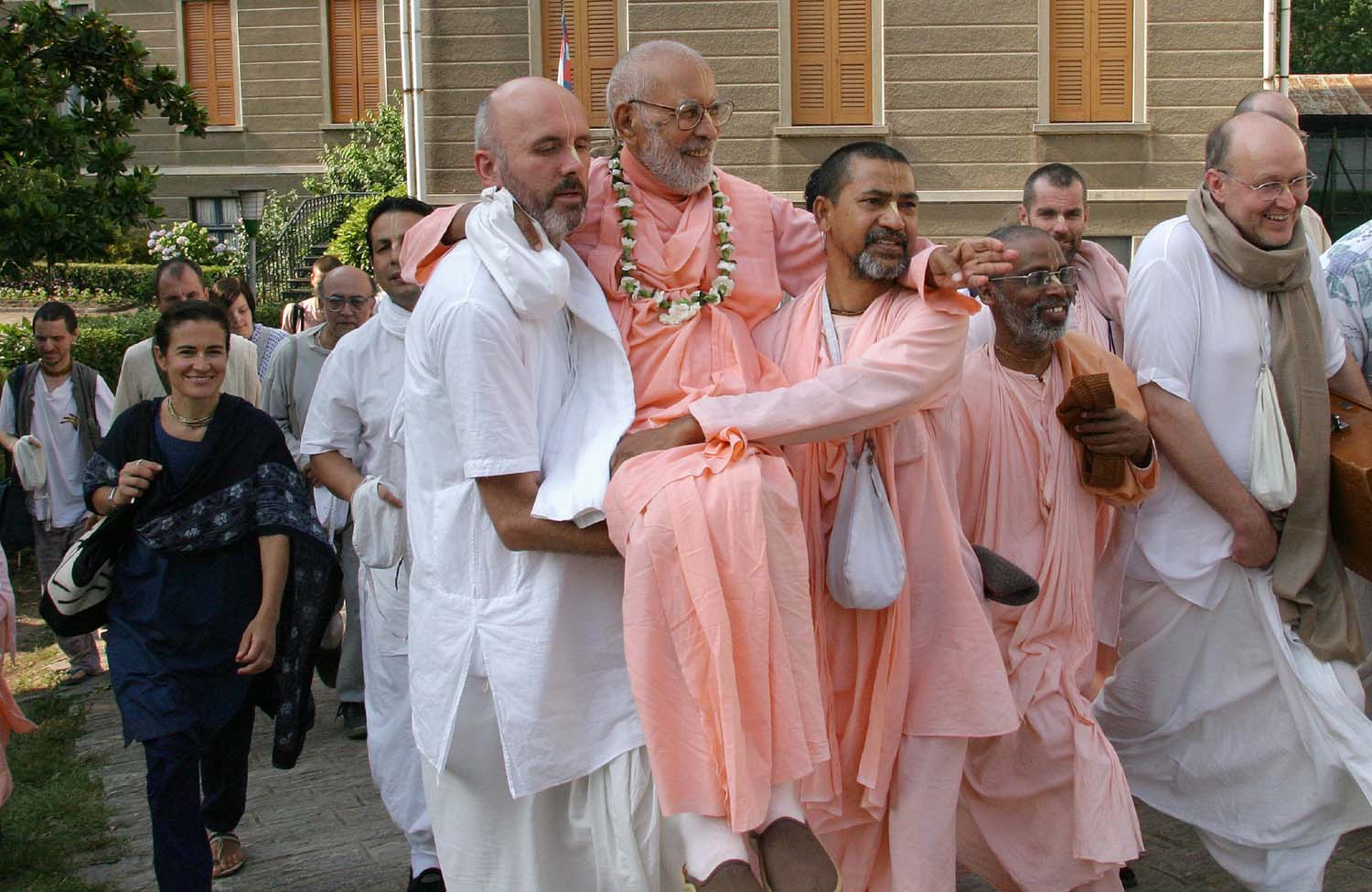 ----------
Sudevi Dasi
-
------------->>>>
What is seva? A mood or an action? ♥
Resp - replay by
;----------->>>
Bhagavat Maharaja
OK so here is a story from Srila Prabhupada that helps us understand what is going on. Garagamuni would not offer obeisances to Srila Prabhupada when he entered the Temple room. So Srila Prabhupada asked him why do you not offer obeisances. He responded by saying I do not feel like it. Srila Prabhupada said that you should offer obeisances anyway
...


and then the feeling will come and you will offer it naturally.

So there is Vaidhi and Raganuga. Vaidhi is based on Fear. I am afraid that if I do not do Bhakti I will suffer in this life or future lives or go to hell or whatever. Therefore let me worship the Supreme personality of God head with all adoration and opulence. This mood of awe and reverence is based on fear. Raganuga Bhakti really begins at the stage of Nishta and Ruci when you have real faith in the orders of the Guru and are not afraid to execute them and do not intellectually analyze why and how you should do them. This is Nistha action based on real faith which is LOVE which is spontaneous and from that Ruci and taste and with taste you act with real spontaneous desire to please Krsna. Giving pleasure to Krsna is Bhakti. Acting to please his senses instead of my own is Bhakti. However How do you get there from where you are when you first start. By Vaidhi Bhakti. However Vaidhi Bhakti performed mindlessly will not automatically give you Raganuga. You must desire to have the mood. You must perform Bhajana Kriya in concert with the practice of anartha nivritti to remove your anarthas, those things which are obstructing your progress. You must desire to remove them and if you desire to remove them then the sadhu will remove then when he sees the intensity of your greed to develop the mood. So while one is acquiring the mood of raganuga Bhakti one must still act in Vaidhi Bhakti even if it is mindlessly whilel he develops the greed to have the mood of raganuga. When the sadhu sees sufficient greed he will remove those things that are obstructing you from developing the spontaneous mood of love in your activities where you cannot stop doing service to please Krsna. So Perform Vaidhi Bhakti. Act out if fear but cry for Krsna and Guru to remove that fear and the other anarthas and beg for spontaneous love raganuga and when the Guru sees that greed reach the proper intensity he will give you the spontaneous mood of love.

ALWAYS ACT IN THE SERVICE OF KRSNA, MINDLESSLY OR MINDFULLY, BUT ALWAYS ACT NO MATTER WHAT
ALWAYS TRY TO DEVELOP THE MOOD IN ALL STAGES OF BHAKTI WHILE ACTING AND THEN THE MOOD WILL COME.
ALL MOOD NO ACTION IS FANTASY JNANA
ALL ACTION NO MOOD IS JUST LABOR KARMA
ACTING WHILE ASPIRING FOR THE MOOD IS VAIDHI
ACTING BECAUSE YOU ARE INSPIRED BY THE MOOD IS RAGANUGA
ACTING WHILE ASPIRING FOR THE MOOD IN VAIDHI ONE WILL GET THE INSPIRED MOOD OF RAGANUGA BY THE MERCY OF SAD GURU AND ACT SPONTANEOUSLY WITH THE RIGHT MOOD.


This is the proper understanding.
Jaya Srila Prabhupada ! Sudevi Dasi didi Ki Jaya !Bhagavat Maharaja Ki Jaya !!!Jaya Srila Gurudeva , Madhava Maharaj , Bhajannath Prabhu ji , Sripad Vana Maharaj , Swami Ji Sajjana Maharaj and Devotee , Radhe !!!!Vanca Kalpa !!!
TRADUÇÃO ELETRONICA (PODE CONTER ERROS DE CONCORDANCIA )
:
OK então aqui está uma história de Srila Prabhupada que nos ajuda a entender o que está acontecendo.
Garagamuni não oferecer reverências a Srila Prabhupada, quando ele entrou na sala do Templo.


Então Srila Prabhupada pediu-lhe por que não oferecer reverências.
Ele respondeu dizendo que eu não me sinto como ele.
Srila Prabhupada disse que você deve oferecer reverências de qualquer maneira ...


e então o sentimento virá e você irá oferecê-la naturalmente.


Assim, há vaidhi e raganuga.
Vaidhi é baseada no medo.
Receio que, se eu não faço Bhakti vou sofrer nesta vida, ou vidas futuras, ou ir para o inferno ou o que quer.
Portanto deixe-me adorar a Suprema Personalidade de Deus com a cabeça toda adoração e opulência.


Este clima de respeito e reverência é baseada no medo.
Raganuga Bhakti começa realmente na fase de Nishta ruci e quando você tem fé real nas ordens do Guru e não têm medo de executá-los e não intelectualmente analisar por que e como você deve fazê-las.
Este é nistha ação baseada na fé real que é o amor que é espontâneo e de que ruci e gosto e com gosto de agir com o desejo espontâneo real para agradar a Krishna.
Dar prazer a Krsna é Bhakti.
Agindo para agradar os seus sentidos em vez do meu é Bhakti.
Contudo Como você chegar lá de onde você é quando você começa primeiramente.
Ao vaidhi bhakti.


No entanto vaidhi Bhakti realizado negligentemente não dá automaticamente raganuga.
Você tem o desejo de ter o humor.
Você deve executar Bhajana Kriya em conjunto com a prática de nivritti anartha para remover seu anarthas, aquelas coisas que estão obstruindo o seu progresso.


Você tem vontade de removê-los e se você deseja removê-los em seguida, o sadhu irá remover depois, quando ele vê a intensidade de sua cobiça para desenvolver o humor.


Assim, enquanto um está adquirindo o espírito de raganuga Bhakti ainda é preciso agir em vaidhi Bhakti mesmo que seja inconscientemente whilel ele desenvolve a ganância de ter o humor do raganuga.


Quando o sadhu vê cobiça suficiente, ele irá remover as coisas que estão impedindo você de se desenvolver o sentimento espontâneo de amor em suas atividades onde você não pode parar de fazer o serviço para agradar a Krishna.
Então Realize vaidhi bhakti.


Lei de fora se o medo, mas chorar por Krsna e Guru para remover o medo ea anarthas outros e pedir raganuga amor espontâneo e quando o Guru vê que a ganância alcançar a intensidade adequada, ele lhe dará o clima espontâneo do amor.


Agir sempre no serviço a Krishna, negligentemente OR conscientemente, MAS SEMPRE NÃO IMPORTA O QUE ACT

SEMPRE tentar desenvolver o humor em todos os estágios de bhakti funcionando simultaneamente e então a MOOD virá.

ALL HUMOR NO ACTION é fantasia Jnana

ALL ACÇÃO NO humor é JUST TRABALHO KARMA

Agir, enquanto para aspirantes o humor é vaidhi

Agir porque você está inspirado pelo humor é raganuga

Agindo enquanto aspirantes para o modo IN ONE vaidhi começará a MOOD inspirada de raganuga pela misericórdia de GURU SAD e agir espontaneamente com o humor DIREITO.
Hare Krsna !
.
.